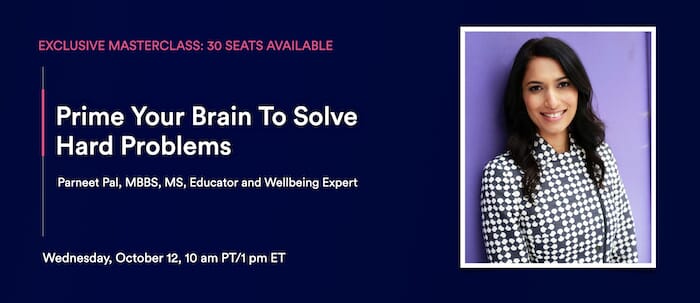 Whether you're a designer or work with excel spreadsheets; a leader or individual contributor; working on a personal, organizational or societal challenge; creativity - the ability to produce something that is both novel and useful - is one of the key capacities required to succeed in the unpredictable, new world of work.
While most of us are familiar with creative frameworks or processes, we rarely pay attention to supporting the source and foundation of our ideas and imagination: our brain.
In this interactive masterclass, we will explore what happens in the brain when we are pursuing creative activities, why our usual ways of working make us less creative, and how we might be more intentional about supporting our brain for creative insights to arise and solve hard problems.
You will leave with a greater understanding of:
How the brain solves complex problems creatively
The four conditions that prime your brain for creative insights to arise and how to include them in your work day - both individually and on teams
Evidence-based techniques to use daily to strengthen creativity
About Parneet Pal
Parneet Pal, M.B.B.S., M.S., is a Harvard- and Columbia-trained physician, working at the intersection of business, lifestyle medicine and behavior change. As an educator and science communicator, she applies her expertise to optimize human health & performance, and its impact on business leadership and planetary wellbeing. As a TEDMED scholar, she focuses on systems change that architects the future of a compassionate, equitable society where health is the default.
She has designed lifestyle management programs (nutrition, sleep, exercise, stress, mental and emotional health) for Executive Health (most recently at the University of California, San Francisco); directed wellness and preventive health operational teams; and led faculty, curriculum, content and product development as Chief Science Officer of a health start-up scaling corporate mental and emotional wellbeing.
Parneet speaks about the connections between Health, Leadership and Climate at Fortune 500 companies, business schools and global conferences. She was a podcast host at Wise@Work podcast; writer and presenter of The Science of Wellbeing at Work video series; Harvard Business Review contributor and been featured on the cover of Mindful magazine.
In addition to her medical training, she holds a Masters in Exercise and Movement Science from the University of Oregon.
To learn more about and reach Parneet