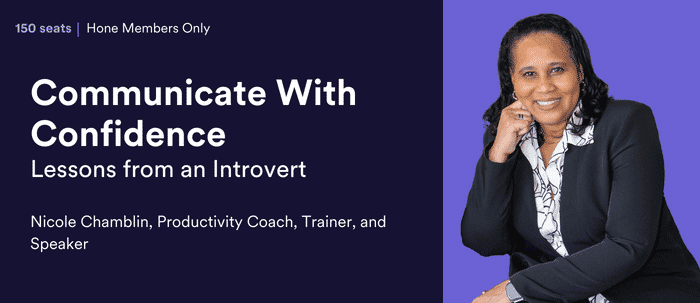 Nicole is a speaker, author, and ICF PCC credentialed coach. A confirmed introvert, she's learned how to be intentional in her communication, allowing her to build a business by coaching others and presenting on stage.
In this class, Nicole will share her lessons on how to develop strong communication skills and be confident in everyday interactions and high-stakes situations. Tailored to the unique strengths and challenges of introverts, this masterclass will give you practical strategies and actionable insights to renew your appreciation for your introversion as a superpower so you can tackle leadership challenges head-on.
Join us for an interactive and supportive learning experience that will empower you to communicate with confidence, excel in your career, and leave a lasting impact in your professional journey.
You'll leave with a greater understanding of:
How to embrace your introverted nature and turn it into a professional advantage
Strategies to develop effective communication for various situations
What creates a lasting executive presence that commands respect and influence