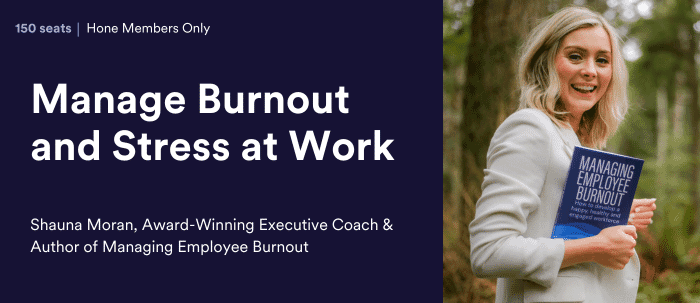 New findings from the Future Forum have unveiled a huge surge in employee burnout, marking the highest point since tracking began in mid-2021. In an extensive survey encompassing over 10,000 full-time desk and office-based workers, an alarming 42% of participants expressed feelings of burnout.
A particularly insidious quality of burnout is that it often remains hidden until it reaches a critical stage, at which point it is hard to address. In this masterclass, Shauna Moran, an award-winning coach and author of Managing Team Burnout, will share a list of early burnout red flags that most people miss so that you can fully combat burnout for yourself and your team.
Whether you are an individual who experiences high stress and burnout, or a leader seeking to prevent burnout on your team, she will give you a clear plan of action to scale impact for yourself and others without sacrificing wellbeing.
You'll leave with a greater understanding of:
What workplace burnout is and how to recognize it in yourself and others
The major root causes of workplace burnout on an individual and systemic level
Practical ways to mitigate, reduce and navigate stress and burnout within your team