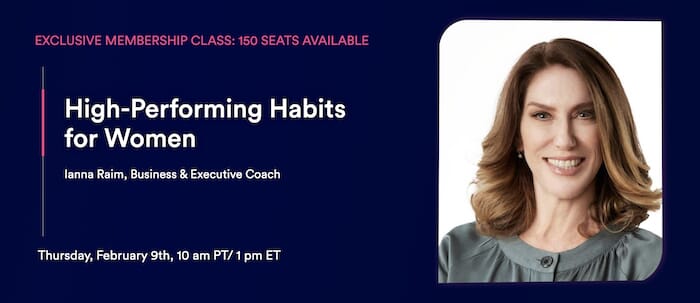 Note: Enrollment is limited for this exclusive masterclass, so sign up fast! This session is open to all, whether you have directly had these experiences or want to support the people around you that have.
What you do is the difference between who you are and what you want to become. And research shows that 45% of what we do on a daily basis is the result of recurring, automatic habits.
As women who seek to advance our careers, we often rely on what we think are good habits. Indeed, these professional habits have served us well in the past; they may also be the behaviors that sabotage us in the future. If you want to break through what may be holding you back and reach your full leadership potential, this interactive workshop will explore high-performance habits and help you take meaningful actions to progress your career.
You'll leave with a greater understanding of
The definition of a "habit."
Which habits serve women in advancing their careers and which do not
How to sustainably integrate high-performing habits into your work
About Ianna
Ianna Raim is a Hone facilitator, professional executive, and business coach whose clients include corporate executives and companies throughout the U.S. and overseas. Ms. Raim's clients have included: AXA insurance, Anthem Healthcare, Validus insurance, Hudson Bay Group, Macy's, White and Case Law, and Sanofi Pharmaceuticals.
Ianna's coaching career was preceded by over 20 years in business. Her corporate career began as Regional Director of Marketing for DIRECTV Latin America. Ianna is a Harvard-trained MBA, an American Management Association faculty member, and a Brown University graduate.
She received her coaching degree from the Institute of Professional Excellence in Coaching. Ianna is a mentor for teen fellows in the Solomon Leadership program in Bal Harbor, FL. Additionally, she is part of a select mentoring group of 150 women strong for Girls Inc. of Greater Miami. Fluent in Spanish and Portuguese, Ianna is married with four daughters and resides with her husband in Bay Harbor, FL.
To learn more about and reach Ianna: