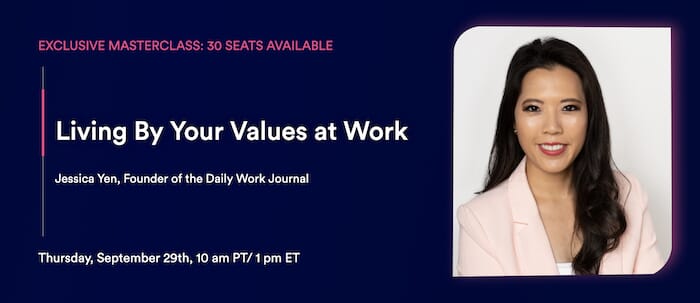 What does a fulfilling career look like to you?
Taking time to reflect on this question can help you become a happier, more engaged, and energized version of yourself at work. However, people often let their day-to-day work take precedence over this reflection instead of making conscious changes in their careers.
After seeing people settle for less than what they want in their career time and time again, Jessica Yen quit her tech job in the middle of the pandemic to become a full-time coach. In this workshop, Jessica will use her experience coaching high-level leaders at companies including Meta, Amazon, and Google to guide you towards a more profound sense of clarity around your priorities to reflect these in your work.
Jessica will guide you through a reflection on your career values with her tool, "The Career Values Wheel." This reflection will help you assess where your work and values are aligned and misaligned and plan changes you can make to fully use your job as a platform to express and live by your values.
You'll leave with a greater understanding of
Areas of alignment and misalignment between your values and career
How to define your "non-negotiables" when thinking about your career values
How to reflect your changing values in your work as you evolve as a person
About Jessica Yen:
Jessica Yen is an executive coach and the founder of Daily Work Journal. This all-in-one journal planner notebook helps working professionals build self-awareness and self-confidence and excel in their careers.
With over 10 years of corporate experience in the tech industry as a data analyst, Jessica has coached high-level leaders in data analytics, engineering, sales, and business operations at companies including Meta, Amazon, and Google.
Jessica earned her Professional Certified Coach designation through the International Coaching Federation and holds a Certified Professional Co-Active Coach credential. Additionally, she is a certified practitioner of the Leadership Circle Profile™ 360 assessment tool. She completed a double major in Economics and Global Studies from UCLA and is an alumna of Salesforce, Yelp, Deloitte Consulting, and Cruise. She considers herself a native of Taiwan, Malaysia, and California and currently calls LA home.
To learn more about and reach Jessica: