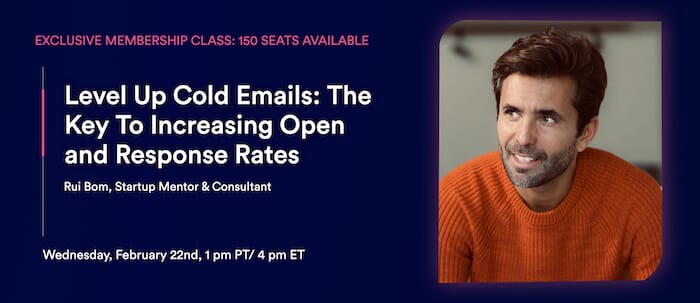 Whether you are doing sales outreach, marketing an event, or writing to someone to ask them to a coffee chat, we are all tasked with sending emails to people beyond our network.
Statistics show that these emails, called "cold emails," have an average open rate of 44%.
When you look more closely at the data, you find that 8% of cold emails have an open rate of 80% or more. So what are these people doing different to achieve this high open rate?
In this class, startup mentor Rui Bom will break down countless hours of research, mentoring, and practice into bite-sized strategies for you to up-level your cold emails and beat 99% of the world at writing emails that convert. He'll also guide you through plenty of practice so you can apply these strategies effectively.
You will leave with a greater understanding of the following:
The reasons why you're being ghosted and why most people aren't reading or replying to your emails.

How to craft a world-class email using the 3R Framework (Relevance, Reward & Request).

Why great subject lines are key to emailing success and how you can craft a short and compelling one that gets you clicks.

The critical importance of follow-up emails and how these may well be the difference between emailing failure and success.