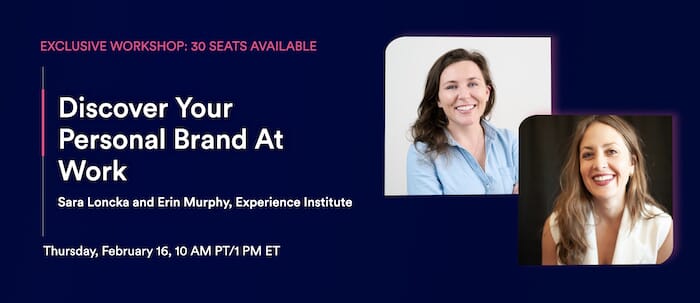 A brand is a relationship between an entity and the people who engage with it. Today more than ever, the term has shifted from companies and products to every individual. Everyone has an opportunity to determine how they want to show up on their teams and in the world at large.
The Personal Brand Identity workshop bridges self-awareness and a relationship-centric approach to building a personal brand. Using a powerful tool to define your personal brand in a professional setting, you will clarify your strengths and values and ensure you're showing up as the leader and team member you hope to be.
You'll leave with a greater understanding of
Why cultivating a personal brand is important in the workplace

The attributes of your own personal brand which aligns how you want to be perceived and how others see you.

Tactical ways to embody your personal brand in various professional settings.
About Sara Loncka
Sara is the Head of Culture and Strategy at Experience Institute. From teaching 8th-grade history with Teach for America to designing learning experiences for leading companies like Facebook, Visa, and Chevron, Sara has facilitated groups of all sizes and worked at nearly every level of professional development. Sara served as the director of the Coro Fellowship in Public Affairs, the nation's premier Fellowship for aspiring public leaders, and is a recipient of the Missouri Community Suicide Prevention Award for her efforts in youth suicide prevention. An actor at heart and by training, she uses her stage background to facilitate and design dynamic learning experiences.
About Erin Murphy
Erin is Experience Institute's Program Strategist and Senior Facilitator. Her career has centered around the nexus of travel and education, and she spent the last decade designing curriculum and running operations in the study abroad space, first at Rustic Pathways and then at Verto Education. Erin is passionate about illuminating connections between global issues and local stories. Erin credits her time teaching at a university in Northeast Thailand with shaping her joyful and relationship-based facilitation style. Erin holds a masters in education from the Harvard Graduate School of Education.
To learn more about Sara and Erin's work at Experience Institute…
Follow them on Instagram @expinstitute