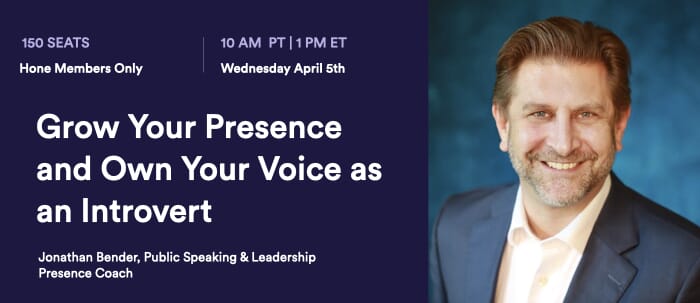 It's a common misconception that introverts can't be good public speakers. In fact, many of the best ones are! Join veteran public speaking coach, Jonathan Bender, to build your confidence and presence in any speaking situation.
In this workshop, you'll walk away with:
The 5 Pillars of Compelling Communication and Speaking
How to grow vocal power, and have a more compelling speaking voice
Clear steps to grow your presence, both on video and in person
What to expect:
Large group class of 50+ learners
Small group breakouts to practice vocal power
Camera-on encouraged
About Jonathan Bender
For over 25 years, Jonathan has trained thousands of professionals and entrepreneurs to become confident, authentic and dynamic speakers. His integrative, holistic approach is time-tested and proven to transform nerves into confidence and presence, moving audiences both on video and in person. Jonathan's clients range from CEOs and executives to TED speakers to entrepreneurs. Jonathan has worked with executives from Google, HP, Kaiser, and a range of well-known companies.
The creator of the WholeSpeak Method, Jonathan blends professional speaking skills with performance techniques from acting, voice and movement, and personal development. He holds graduate degrees in both Speech Communication and Theater, and is also a theater director, actor and creator.