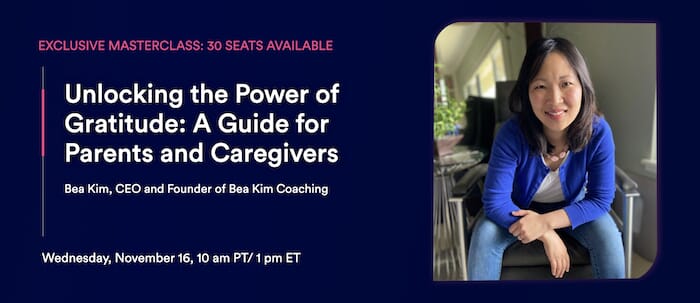 A 2021 article published in Harvard Health linked gratitude to better health, more optimism, increased happiness, and improved relationships. However, the lack of guidance around how to cultivate an effective, evidence-based gratitude practice often holds people back from unlocking the true power of gratitude in their lives.
Leading up to Thanksgiving and the holiday season, we are bringing you a special experiential masterclass led by Bea Kim on cultivating gratitude for working parents and caregivers. In this class, we'll help you cultivate a gratitude practice that helps you connect with something larger than you as an individual, and can carry you through the challenges that come with balancing family and work. Then, we'll brainstorm ways to express and share this gratitude with your family and teammates.
Join us to take the first step towards a lifelong gratitude practice for you and your family that will increase happiness, support resilience, and manage your stress.
You'll leave with a greater understanding of
Powerful gratitude exercises to move you from cognitive to experiential gratitude
Practical applications of how to express and cultivate gratitude for yourself and those around you
Simple but effective gratitude interventions for your family and age-appropriate practices for your child(ren)
About Bea Kim
Bea is a life and executive coach who primarily serves working parents, high potential leaders, and executives in helping them develop fulfillment and purpose, but also helps larger companies like Google and PG&E. Along with coaching, Bea also pursues her passion in helping the next generation of women leaders as a group coach for the Stanford Graduate School of Business, facilitating deep conversation for the Women in Management program.
She is an angel investor and her portfolio includes startups in the financial, technology and media space.
Previously, Bea sold an education startup in 2012. Bea has her bachelor's from Stanford University and coaching accreditation as a Professional Certified Coach from the International Coaching Federation. In her spare time, she loves watching detective TV shows, researching skincare products, and camping with her husband and two children, Owen and Stella.
To learn more about Bea, visit www.beakim.com.
You can reach Bea at [email protected].