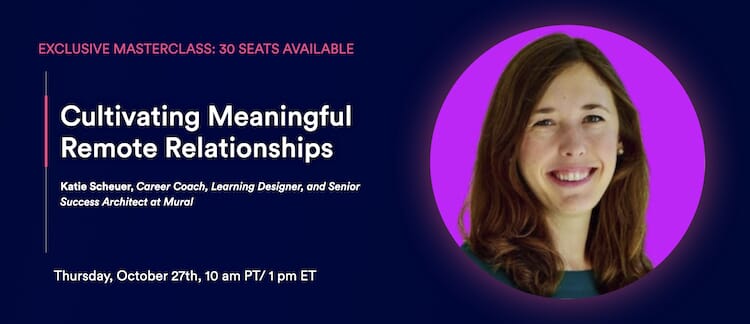 People find work more fulfilling when it is enhanced by a sense of connection and friendship with those we work with. A range of research that has linked strong work friendships to higher job satisfaction, engagement, productivity, and creativity.
However, as we embrace more flexible remote and hybrid patterns of work, more employees report feeling a sense of disconnection with their team.
How do we bridge this gap and build meaningful relationships in remote settings?
We'll answer this question in this masterclass on cultivating meaningful remote relationships, with former career coach and learning designer, Katie Scheuer. Katie will bring her years of experience coaching hybrid and remote teams and share practical strategies to cultivate a sense of connection on your team from years of helping hybrid and remote teams thrive. We'll discuss how to unlearn some of our default habits around using synchronous and asynchronous time and replace these with an intentional practice of deepening relationships through several tiny actions that make a difference over time.
You'll leave with a greater understanding of
How to be strategic in your use of asynchronous and synchronous time to allow more space for building relationships
Ways to go beyond the surface and build deep-level connections during virtual and hybrid meetings
How to use asynchronous tools to ensure ongoing relationship building on your team
About Katie:
Katie Scheuer helps teams thrive in hybrid and remote environments. A former career coach, she spent a decade helping career changers and international professionals develop new skills and achieve their goals. From 2019-2022, Katie was a digital nomad in Asia, Europe and North America, and was Head of Learning Experience at Workplaceless, a remote work training company. There, she helped leaders leverage async-first and digital-first practices. In August 2022, Katie joined MURAL, a collaborative intelligence company, where she guides organizations to create cultures of effective collaboration and increase innovation.
You can learn more about and get in contact with Katie through her Linkedin profile.