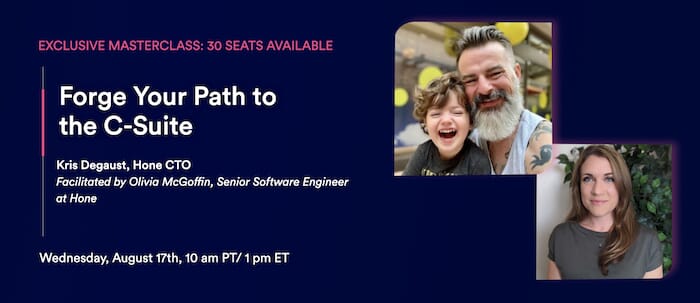 As a leader, your team's performance is your performance. This means that as you seek to advance your career, you have to invest in your own growth and the growth of your team.
In this masterclass, Hone CTO, Kris Degaust, will share his unconventional journey to the C-Suite, all the way from humble beginnings, to joining the military, breaking into the corporate world as an engineer, and finally discovering his love of leading people. He'll share how his journey taught him to think out of the box about strengths and weaknesses, and how you can leverage non-traditional strengths to power your own growth and the growth of your team.
This interactive fireside chat will be facilitated by Olivia McGoffin, Senior Software Engineer at Hone and Kris' direct report! Having firsthand experience with Kris' leadership and her own unconventional journey from teaching to engineering, she will lead a powerful conversation that leaves you with actionable steps to begin forging your own path to the C-suite.
You'll leave with a greater understanding of:
How to identify unique strengths in yourself and your direct reports
How to turn obstacles into opportunities for yourself and your team
The importance of diversity in background as you build and grow your team
About Kris Degaust
Kris Degaust is Hone's Chief Technology Officer and oversees the company's entire engineering team. He has 20+ years of experience in both product development and team leadership and a proven track record of building and scaling engineering teams at companies like Zynga, Zendesk, dutchie, and more with a people-first approach.
Check out Kris's LinkedIn here.
To learn more about Kris, read this article on the Hone website.
About Olivia McGoffin
Olivia McGoffin is a Senior Software Engineer at Hone. In addition to her career in software development, she was a teacher and private tutor for math, science, and computer science for over a decade. Her background is in Physics, Art, and Russian, with a focus on nanomagnetics. She has taught Programming, Engineering, and Product Design classes at Stanford and is passionate about supporting women and minorities in STEM through mentoring groups such as HackBright and Built By Girls.
Olivia has a passion for breaking down complex problems into bite-sized pieces, as well as working with small companies. Her career in software engineering and teaching has led her across the globe, from Azerbaijan to San Francisco, where she currently resides. In her software career, she has worked with large and small companies alike, in bilingual environments, and across industries. When she's not problem solving, you can find her exploring the great outdoors with her husband and dog.