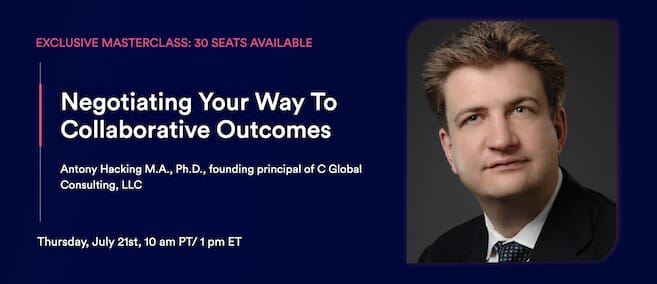 As the need for managers and team members to navigate change and complexity steadily increases, it is essential to enhance the capacity of organizations to generate collaborative outcomes.
In this highly interactive virtual course, participants will learn how to leverage a three-phase collaborative negotiation process for constructively addressing workplace
disagreements and organizational challenges. Participants will also gain insight into the essential components critical for planning an effective negotiation. In addition, three high-impact communication skills will be discussed in the context of a case study.
You'll leave with a greater understanding of
How to plan effectively for a high-impact negotiation
How to analyze a negotiation using six essential components to maximize outcomes
How to use high-impact communication techniques to transform areas of disagreement into opportunities for growth and change
About Antony Hacking, Ph.D.
Antony G. Hacking M.A., Ph.D., is a social-organizational psychologist and founding principal of C Global Consulting, LLC, an organizational consulting firm specializing in leadership development and team effectiveness. He has a Bachelor's degree from Vassar College with a
major in biopsychology and a correlate sequence in women's studies. In addition, he holds a Master of Arts in organizational psychology with specializations in conflict resolution and changes management from Teachers College, Columbia University, and a Ph.D. in social-organizational psychology at Columbia University with research interests relating to leadership in cross-functional teams, team effectiveness, and diversity.
Tony is a trained instructor and consultant in leadership, team effectiveness, negotiation, client service, conflict resolution, cross-cultural communication, and ethics. He has co-designed and led several courses at the Center for Educational Outreach and Innovation (CEO& I) and the International Center for Cooperation and Conflict Resolution (ICCCR) at Teachers College, Columbia University. He has also designed and conducted workshops and consulting interventions in 28 countries for thousands of business leaders, managers, research scientists, lawyers, client services representatives, diplomats, United Nations professional staff, military officers, clerical staff, technicians, doctors, allied healthcare workers, police officers,
teachers and middle school students in areas of collaboration, teamwork, leadership
development, client service, conflict management, diversity, ethical decision making and
presentation skills.

Some of Tony's most recent clients include UNICEF, WFP, UNFPA, the United Nations Secretariat, New York City Nexus Leadership, Columbia University (Business School, Teachers College, Executive Coaching Program, Center for International Conflict Resolution), the City of New York (DCAS), the Federal Reserve Bank, J.P. Morgan, New York City Police Department, PGIM, Con Edison, Synergos Institute, Shire Pharmaceuticals, Pfizer Inc., AstraZeneca, Bio-Rad Laboratories, The Medicines Company, and Bellevue Hospital. In addition, Tony is also an experienced mediator who has facilitated the successful resolution of both corporate and community disputes.
Tony has co-authored over 20 articles and white papers on leadership in cross-functional teams, conflict resolution, physiology of behavior, brain function, and motor performance. He is a licensed practitioner and trainer for the Neethling Brain Instrument (NBI™); additional certifications include DiSC and the Global Diversity Survey. Tony is a member of the American Psychological Association, Society of Industrial-Organizational Psychologists, the Academy of Management, and Mediators Without Borders. He lives in New York City with his family.
You can learn more about Tony on LinkedIn or by visiting his website.