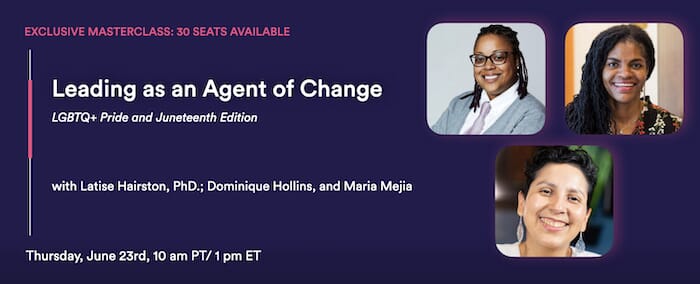 ---Due to the interactive nature of this masterclass, enrollment is limited.---
While structural changes driven by C-Suite and HR leaders are the backbone of an inclusive organization, the real magic happens when managers at every level use their influence to become agents of change and bring diversity, equity, inclusion, and belonging (DEIB) alive on their teams.
In this session, we'll unpack the essential elements that help individuals from underrepresented backgrounds thrive at work. We'll hear from the experiences of three panelists with a history of driving equity and inclusion in several well-known organizations about their advice for employees from underrepresented backgrounds. We'll also discuss how all people leaders can take actions towards more inclusive and equitable workplaces.
While this is a panel discussion, we will be creating space for reflection and connection amongst learners. Enrollment is limited to a small group. This ensures each learner has the opportunity to interact with panelists and get actionable guidance on meaningful action towards inclusion that can ripple across their organization.
You'll leave with a greater understanding of:
The impact that you have as a people manager, regardless of level, in driving inclusion across your organization
How to effectively address the emotional and physical reactions that often show up in DEIB-related conversations and while enacting inclusive behaviors on your team
How to seamlessly integrate equity-thinking in the day-to-day operations and decision making of your team
About our Panel
The conversation will be led by a panel of DEIB changemakers and thought-leaders from within Hone's internal team and coach network who bring years of collective experience to the table.
Latise Hairston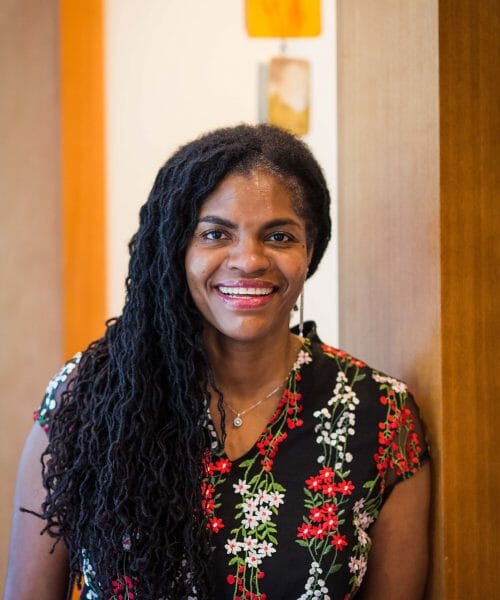 Dr. Latise Hairston is a dynamic, accomplished, certified Diversity, Equity & Inclusion Strategist respected for delivering a consistent creative vision based on data-driven decision making. She has a proven track record of effectively designing and managing large-scale culture transformation projects overseeing the entire implementation cycle. Latise is known as a
motivational, influential thought leader and collaborator who is a life-long learner.
Latise advocates for all human beings (especially for those disenfranchised) and influences systems to create practices, policies, and cultures that respect individuality and focus on diversity, equity, inclusion,and justice. With over 20 years of leadership experience, Latise has counseled and coached hundreds of individuals, leaders, and organizations in the government, non-profit, and corporate sectors. She designs, manages, and facilitates enterprise-wide innovative solutions around strategic planning, change management, and leadership. Latise has experience leading Diversity, Equity, and Inclusion strategic plans and implementation, including within a multi-billion-dollar hospitality organization and a Global NGO operating in 60 countries.
Latise is the Founder and Chief Impact Officer of HOPE, LLC and an adjunct faculty member at MedailleCollege and Fielding University. Latise holds an M.S. in Counseling, M.S. in Creativity and Change Leadership, and a Ph.D. in Leadership and Policy (concentration- Organizational Behavior). Latise is a certified coach and diversity professional and a published researcher.
When not working, Latise enjoys traveling and spending time with family.
Dominique Hollins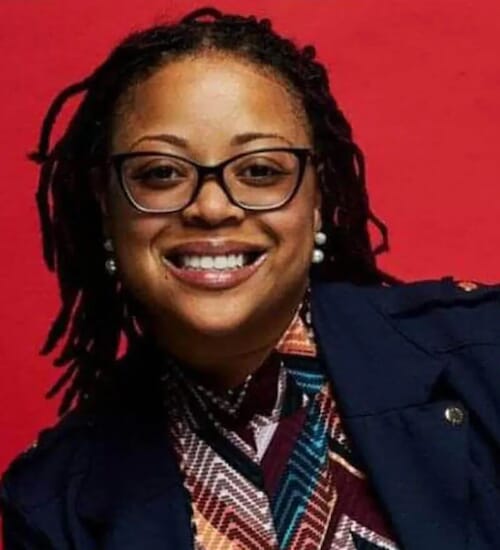 Dominique Hollins is a Hone facilitator, business operations leader and a diversity, inclusion and belonging expert. With over 12 years of experience in the technology and financial services industries, she has provided guidance and coaching to executive leaders and professionals within North America, Germany and the United Kingdom.
Dominique has worked at Google, eBay and is the co-founder of Our Collective in partnership with the Kapor Center in Oakland, California. Dominique was recently inducted in the 2019 class of Fortune's Most Powerful Women Next Gen and is dedicated to personal and professional growth through human connection.
Maria Mejia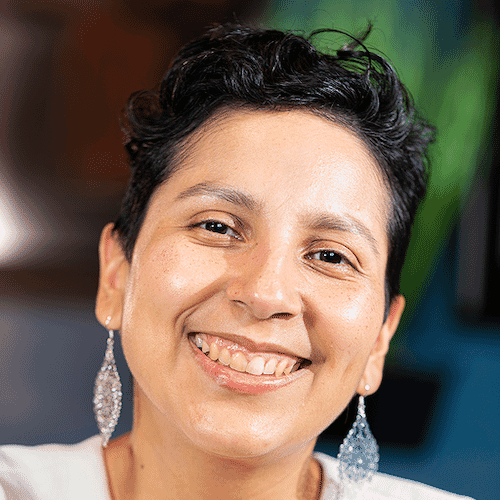 Maria Mejia is an award-winning Learning Experience Designer at Hone, the all-in-one talent development platform for modern teams delivering live learning at scale to enable behavior change, human connection, and continuous development.
Before joining Hone, Maria developed learning solutions for finance, health care, higher ed, and tech industries. They have also led workplace affinity groups. Maria's rich background allows them to tackle complex problems creatively while maintaining a user-centered approach. They are committed to creating and designing conversations that spark self-awareness and help foster community in the workplace.
When they are not training people, Maria enjoys hiking, running, and spending time with their family in Wilmington, Del.