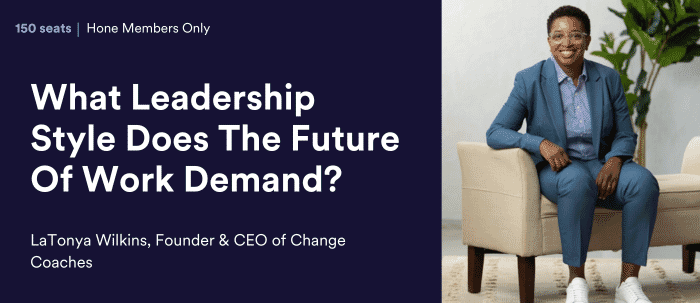 The workplace is changing at an alarming rate. There have been large increases in generational diversity within the workforce, AI has arrived, and employees are working outside of a common space more than ever. All these changes (and more) have caused dominant, traditional leadership approaches to become obsolete.
With a workforce that demands belonging, it's important for leaders to acknowledge the rapidly shifting landscape by getting Below the Surface within their teams. In Part II of this immersive Masterclass series, we will gain an understanding of the future of work, how REAL (Relatable, Equitable, Aware, and Loyal) Leadership fits in, and why we need to challenge traditional leadership approaches. Participants will leave with a blueprint of their own personal leadership style that they will embrace in the future to keep up with the pace of the changing workplace.
In this class, you will:
Identify challenges in the workplace and why current times call for different leadership approaches.
Explore REAL Leadership actions you can take to adapt to the current and future workplace.
Overcome roadblocks that prevent REAL Leadership.
NOTE: This class is the second in our Psychological Safety and Belonging Accelerator Series. If you did not attend our first session, 'Are You Leading a Psychologically Safe Team?,' we recommend that you watch the recording. The link to the recording will be on the class page ("Home" → Click On Class Title) once you register.