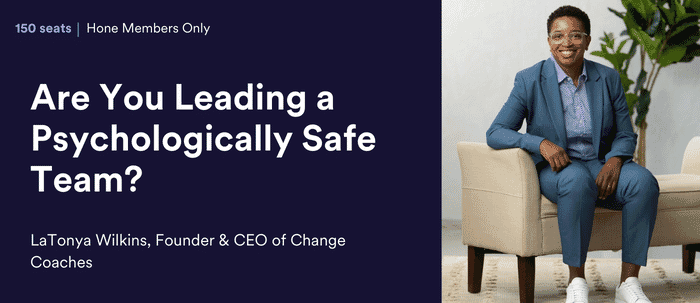 Psychological safety is a term coined by Harvard professor Amy Edmondson, who defines it as ''a sense of confidence that the team will not embarrass, reject or punish someone for speaking up." In 2011, Google identified psychological safety as the strongest predictor of team productivity.
In this immersive Advanced Psychological Safety and Belonging Accelerator, Change Coaches CEO LaTonya Wilkins will teach you key lessons from her book Leading Below the Surface: How to Build Real (and Psychologically Safe) Relationships with People Who Are Different from You. LaTonya has worked with leaders at many well-known companies, including Google, Target, and The New York Times, and is now bringing her expertise to this special session for Hone members.
The class will begin with general concept exploration, move into a self-assessment of your current situation, and end with a few immediate steps you can take to elevate your team effectiveness. This workshop is designed for anyone who is looking to understand the role of both of these concepts in leading psychologically-safe cultures of belonging.
You'll leave with a greater understanding of: