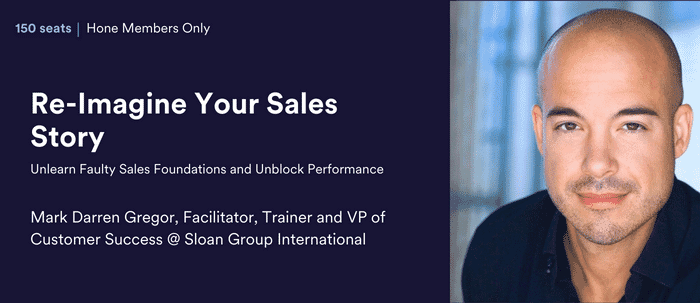 Mark Darren Gregor has led individuals and teams in 23 countries worldwide, managed budgets that supported half a billion dollars in annual revenue, and launched multiple award-winning product lines. In this class, he'll lead an eye-opening discussion on the most hidden blocker to sales performance — the story sales professionals carry about selling.
The class is designed to help get to the heart of sales breakdown — and breakthrough — for new sales professionals, and those at any stage of their game.
Mark will guide you as you shore up the faulty foundation that many sales professionals unknowingly attempt to build upon. You will experience a relevant and resonant discussion with someone who deeply understands the challenge, and excitement, that is inherent in building a successful sales career.
You will leave with a greater understanding of:
How social programming and unconscious bias plays into our identity as sales professional, and how sabotaging thought systems undermine our ability to sell optimally
How to re-imagine your Sales Story so that it feels deeply resonant, motivating, and inspiring
Tips for leveraging our new story as a daily sales practice