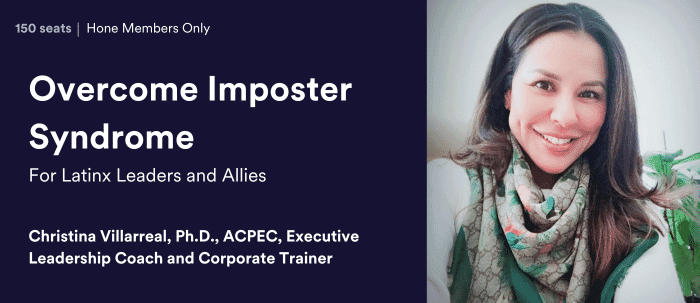 In addition to facing several external challenges in the workplace, many individuals belonging to historically excluded communities also fight an exhausting internal battle - the battle against imposter syndrome.
Imposter syndrome is often framed as a 'problem' within individuals from marginalized groups. In this class, you'll learn how it is actually an experience perpetuated by the biased social systems that exclude some from readily identifying as qualified leaders.
As an executive coach, Dr. Christina Villarreal has helped several leaders from nontraditional backgrounds overcome imposter syndrome and unlock their inner leader. In this interactive session, she'll teach practical strategies to end this internal battle and unlock career potential and growth. While these strategies will be useful for all, we'll spotlight the unique experiences of Latinx employees and explore the cultural roots of imposter syndrome in these communities.
In this class, you will:
Identify personal experiences of imposter syndrome and its effect on their career advancement
Employ practical strategies to overcome imposter syndrome and develop an empowering leadership mindset
Clarify next steps for career advancement based on personal values and priorities