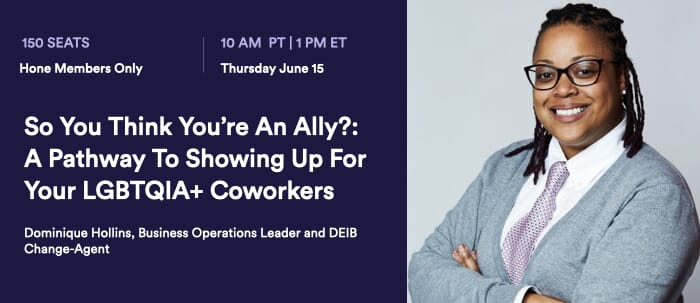 According to UCLA's School of Law, 46% of LGBTQIA+ workers have experienced unfair treatment in the workplace at some point in their lives. The Human Rights Campaign (HRC) reports more than 540 anti-LGBTQ+ bills have been introduced in U.S. state legislatures, with over 220 specifically targeting transgender and non-binary people. Now, more than ever, your LGBTQIA+ colleagues need your allyship.
In Deloitte's 2019 State of Inclusion survey, 92% of respondents agreed with the statement, "I feel dedicated to supporting individuals of groups who are different from me." However, to be an effective ally, one must go beyond good intentions and seek out the knowledge and skills needed to be an effective advocate.
In honor of LGBTQIA+ Pride Month, this masterclass will teach you how to be an effective ally and actively show up for your LGBTQIA+ coworkers. Hosted by DEIB change agent Dominique Hollins, this session makes space for difficult conversations and shares practical strategies on how to transition from performative allyship commitment to meaningful allyship impact.