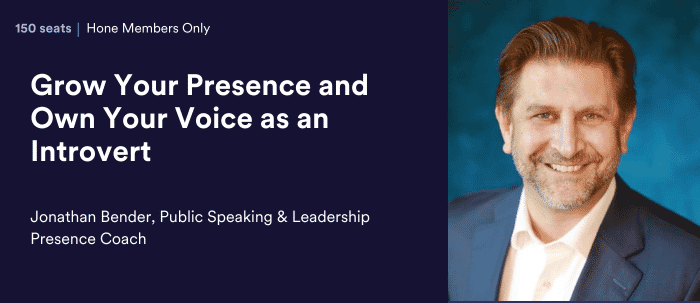 It's a common misconception that introverts can't be good public speakers. In fact, many of the best ones are! Join veteran public speaking coach, Jonathan Bender, to build your confidence and presence in any speaking situation.
For over 25 years, Jonathan has trained thousands of professionals and entrepreneurs to become confident, authentic and dynamic speakers. After working with leaders at organizations such as Google, HP, and Kaiser, he is bringing his expertise to lead this special masterclass at Hone.
His integrative, holistic approach is time-tested and proven to transform nerves into confidence and presence, moving audiences both on video and in person.
In this interactive workshop, you'll learn:
The 5 Pillars of Compelling Communication and Speaking
How to grow vocal power, and have a more compelling speaking voice
Clear steps to grow your presence, both on video and in person