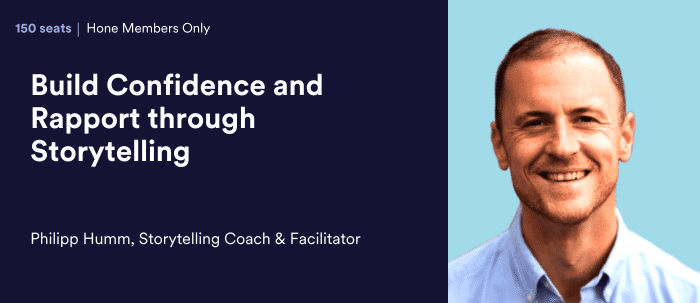 Telling a compelling story with confidence can help you build credibility, buy-in, and motivation. Join us for an exclusive class by Philipp Humm, who works in service of helping people tell better stories with confidence. An introvert by nature, Philipp's mission is to help others discover the storyteller within each one of us.
Philipp will teach you the secrets of crafting compelling stories that resonate with your audience, enabling you to establish rapport effortlessly. Whether you're aiming to win over clients or strengthen relationships with colleagues, this skill will prove invaluable in various professional settings.
Philipp's expertise will enable you to transform ordinary anecdotes into captivating narratives that you can use when forming new relationships or giving your next presentation. You'll learn how to add that extra flavor to your stories, making them memorable and engaging. This skill will set you apart as a storyteller who leaves a lasting impression.
You'll walk away ready to:
Using stories to build rapport with anyone
Spice up your stories
Build confidence in your storytelling