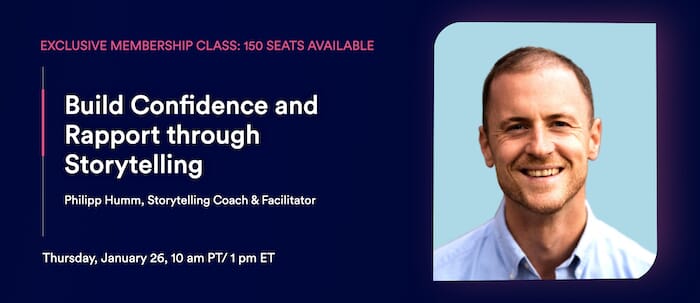 Telling a compelling story with confidence can help you build credibility, buy-in, and motivation. Ready to bring your next PowerPoint or memo to life for stakeholders? Join us for an exclusive class by Philipp Humm, who works in service of discovering the storyteller inside each of us.
In this class, you'll practice:
Using stories to build rapport with anyone
Spicing up your stories
Building confidence in your storytelling
What to expect:
Large group class of 50+ learners
Small group breakouts to practice building connections and storytelling confidence
Camera-on encouraged
About Philipp Humm
An introvert by nature, Philipp's mission is to help others discover the storyteller within each one of us.
Prior to starting his own storytelling business, Philipp worked for ten years in various roles, including Product Management at Uber, Consulting at Bain & Company, and Investment Banking at Blackstone.
He discovered his passion for performance arts (acting, improv & storytelling) in his time in NY while completing his MBA at Columbia Business School. Since then, he has honed his storytelling skills at the Mezrab School of Storytelling De Toneelmeester Acting School and Boom Chicago.
In his free time, Philipp shares stories at open mic nights in Amsterdam, moves his hips at regular Bachata parties, and plays Spikeball with friends.
Learn more about Philipp (LinkedIn)